Ahoi, WELCOME AT STA-B
You are here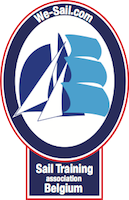 Sail Training Association Belgium, in short STA-B, is the umbrella organisation for sailing in Belgium. We want you to discover all facets of sailing. Young and old, experienced or novice, are welcomed to join us.                                                
In particular our commitment goes to sail training, to engage youth for sailing. We are convinced that sailing is just more than sport. Sail training is gaining life enriching skills and competences while you are sailing.
We called this endeavor "We Sail", because you want to enjoy sailing together with others. In this website we offer you a wide range of opportunities to join one of the unique sailing adventures. You could participate in the Tall Ships Races or in other events. You could also join one of the deliveries organised by the ships theirselves.